Fundraising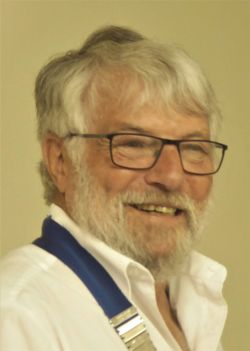 Fundraising Chairman Mike Shaw
My name is Mike Shaw, Iíve been a Lion for nearly 27years joining Medway Lions Club in 1994, followed by moving back to Whitstable and joining Whitstable & Herne Bay Lion Club in 2008.
I am currently Fund Raising Chairman involved in Charity Car Park at Whitstable Junior School, the Church Street Boot Fairs, May Day at the Castle, the Classic Car Show and for 7 years the Regatta Chairman plus many more events. 85% of monies raised stays locally for those in need and remainder tends to support international disasters. One of the best jobs is playing Father Christmas. I was the first Father Christmas to come in by boat into Whitstable Harbour to the original Harbour Village, playing Father Christmas through the town and bringing it to a halt. Children appeared like mushrooms. Great fun. Other interests include supporting Demelza, the Air Ambulance, RNLI and local youth organisations. I am a Trustee of the Belarus Trust supporting Gomel Lions Club and orphanages in Belarus with humanitarian aid following the Chernobyl Disaster which still effects many of the population.
I came to Whitstable, my familyís home, in 1946, went to local schools, finishing at the Sir William Nottidge now the Whitstable School, going on to become an apprentice in Chatham Dockyard and finally as a Project Manager overseeing projects worldwide for Lucas and Delphi Diesel Systems.
My wife Jill is also a Lion and Whitstable born and bred. Our daughter Fiona is also a Lion, both with Whitstable & Herne Bay Lions Club. It is a family orientated International Organisation covering some 202 countries with some 1.4 million members worldwide, making it the largest NGO in the world.
Each year we raise between £10,000 and £15,000 by a wide variety of ways. We organise Boot Fairs during the summer, May Day at the Castle, and six Quiz Nights, supermarket collections, car parking at Whitstable Junior School, Easter Egg Raffle etc. All the money raised is then given away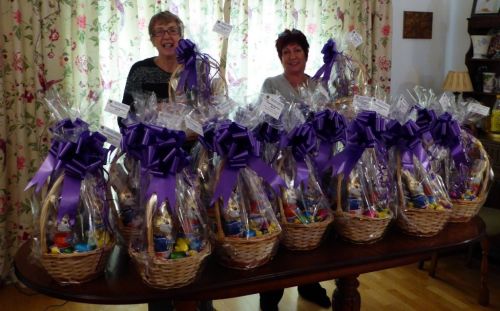 Easter Egg Raffle Prizes Ready for distribution
For further information contact Mike, Fundraising Chairman, on 01227 274313